| | |
| --- | --- |
| | Before I bought the car |
My particular kit
The kit was bought in 1983 by Adam Walker, who I would later meet through a friend of mine. He, his girlfriend (now wife), and my friend built it based on a 1971 VW Beetle, and completed it in 1984. It was registered on the 19th September.
For some reason, Adam chose a black gel-coat for it, and this is a picture of it when it was built (click on it to enlarge).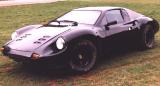 After this picture was taken, the air intake holes in the side were drilled out, and were piped to the engine in the rear, to assist cooling (and styling). In addition, the indentations in the bonnet were also drilled out.
He drove it for around 6 years in the Bristol / Southampton areas, and then left it in his father-in-law's garden, under a tree for another 5 years, which is when I heard of it...

Back up